Christmas Loan Special
Need extra cash for the holidays?
We have a loan for you! Borrow $1,000 for up to 10 months to repay and receive a 1% discount on current rate earned.
Offer is good only during November and December.


---
You have the option to skip your November,
December or January loan payment.
---
The Shared Branching Network is changing its logo from CU Swirl CU Service Centers to CO-OP Shared Branching. Nothing about the shared branching service has changed except the logo.

---
You may drop off your gently worn coats at the credit union office now thru December 6.

These coats will be handed out to the less fortunate in the Stark County Community.
---
BFCU is having a contest to create a logo for our credit union
Submit your logo idea to our office by December 1st.

The winner will receive a $100 deposit to their account along with bragging rights… Winner & new logo will be announced in next newsletter…
---
| | Some politicians in Washington are talking about taxing credit unions, including Stark FCU, as part of an effort to reduce the deficit and overhaul the federal tax code. |
| --- | --- |
---
Introducing Mobile Banking


Brewster Federal Credit Union is now offering Mobile Banking for your Smart Phone! This is a secure and convenient way to access your accounts from your mobile device. Available Smart Phones are – Iphone/IPad/Ipod and Android.

Click the logo above for more
information about app that is compatible with the iPhone, iPad and iPod Touch.
---
---
Auto Exam Coverage Now Available
If you want to extend your warrantee on your car, come see us first. We now offer affordable auto exam coverage, even if you do not have a loan with us.
---
ATM Network Expanded
| | |
| --- | --- |
| | We've added the Pulse Network to our ATM machine and Debit/ATM cards. Our cards will now work at an STAR or Pulse Machine. |
---
Shared Branching:
Now Available!
Brewster Federal Credit Union is a part of Shared Branching. What this means is we "share" services at participating credit unions all over the USA. You can perform transactions you would here at BFCU at our shared CU branches: deposits, withdrawals, loan payments, transfers between accounts, and money orders. Just look for the swirl logo at a credit union location, or search for a branch where you're going at http://co-opsharedbranching.org. Or you can call
1-800-919-2872.
Note that you need to provide the participating branch with your BFCU account number and a valid, government issued photo ID, so make sure that's on your travel checklist.
Shared Branching: Another way Brewster Federal Credit Union is here for you … and there for you!


---
---
Try Our Demo for Online Bill Pay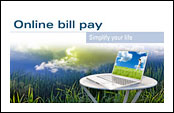 Click the image above to try it out.
---
---
Home Equity Loans are a smart way to borrow for any home owner. Contact our loan officer at 330-767-4345 for more details.
---
Best Rates in Town
Personalized Lending Program
Our rates depend on your individual credit score. Vehicle loans and Personal loans available...Contact us today.